It was not  long ago, that a young lady from Halgeri village of Siddapur (North Kanara), started posting some amazing shots of rare butterflies on the Facebook Group Butterflies of India . Her images included the rare Brown Onyx (Horaga viola).
Yes Netra Bhatt, a young PUC Lecturer in Chemistry at Sirsi, was getting herself initiated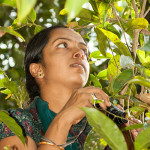 in the amazing world of butterflies. Popularly known as the "Girl with Camera" in her village, her passion for wildlife and specially butterflies was getting noticed by many wildlife enthusiasts including me and was desperate to visit that place. Till date she has recorded 127 Species of butterflies from her area and the count is increasing daily.
On 13-Jan-2013 night  I boarded a bus from Jalahalli Cross, Bangalore to Siddapur and reached there by 7:00am in the morning. Netra was there in the bus-stand to receive me and together we hired an auto to proceed for her home at Halgeri village, 8km away from Siddapur on the way to famous Jog falls. It took us about 25minutes to reach there and I was really amazed by the location of her home surrounded by nothing but famous forests of Western Ghats.
After a warm welcome by her parents and a delicious breakfast both of us went out for our butterflying adventure in the vicinity of her house. No wonder why she insisted us to visit her place, we encountered some amazing butterflies, some of them were lifers for me. Meanwhile we were joined by three of our fellow Butterfly enthusiasts,viz,  Sammilan Shetty, Prashant Bhatt and Nagraj Shastry. With 5 pairs of trained eyes we found out some treasures of Halgeri. I am now going present below some images of these winged jewels and also their early stages that we photographed there for the next two days.
Rosy Oakblue (Arhopala alea):
This is a rare butterfly of Western Ghats. We not only photographed the butterfly but also documented its early stages on Hopea ponga plants.
We searched our level best to locate the caterpillars of Common Onyx but our searches were not successful. We got early stages of Monkey Puzzle and Common Imperial on Ixora species. These caterpillars are very much similar to the illusive onyx caterpillars and probably share the same larval host plant.
Our luck never ran-out on the second day as we witnessed the egg-laying of Common tinsel (Catapaecilma major) on Hopea ponga, possibly a new LHP for the butterfly.
We not only looked for butterflies, but had a night out for an hour to search the hidden world of amphibians. We got some amazing frogs and Spiders at night and could not ID a few of them.
Our two days stay at Halgeri was quite memorable. The hospitality of Netra and her parents made me to believe that I have a family there. I shall surely be visiting that place and nearby areas quite often in near future and shall try to unveil some more secrets of nature. I sign-off with my best shot of the trip, a Green vine snake posing for us.